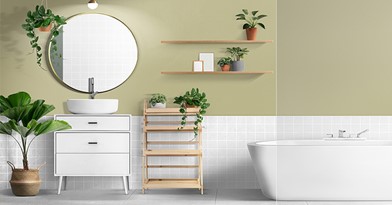 Fall is upon us and, for many homeowners, the new season means a new opportunity to renovate, refresh, and redesign their homes.
And that includes bathrooms.
But when it comes to bathroom design, what's trending this season?
A recent article from realtor.com outlined some of this season's biggest bathroom design trends to help you revamp and refresh your space, including:
Add a gallery wall. Gallery walls are a design staple in living rooms and entryways. But creating a gallery wall in your bathroom is unexpected—and can lend charm and character to the space. (And on a shoestring budget!)
Wall mount the faucet. Want to add visual interest and functionality to your sink area? Consider mounting your faucet on the wall. Not only will a wall-mounted faucet make your bathroom look on-trend, but it can also create more surface space on your vanity.
Striped shower tiles. If you're considering a more extensive bathroom remodel, one trend you'll want to consider? Going bold with your shower tiles. Embracing bold colors and patterns is extremely on-trend this year, with striped shower tiles being particularly trendy.
OR it may be time to find a house that better fits your needs today.
Call me at (317) 625-0655, and I can help weigh the pros/cons.