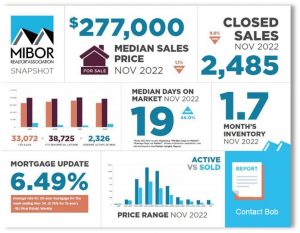 That's right. A seller can no longer expect to have 20 showings the first weekend and get eight offers above list price with no appraisal or inspections. That was so 2021. It just hasn't been happening for months now.
Many buyers, staring at a mortgage sporting a 6+% interest rate, have taken their ball, and are sitting at home. True, some push on regardless- think those with a new baby, moving mom home, or moving to take a new job. But for the majority, they are waiting for something to come down- either rates or home prices, or some combination of the two.
November numbers are out, and there were fewer sales (down 29% from a year ago)— yet lower inventory (down 78%). And prices are sticky, being up 10% from a year ago but possibly having peaked (around $277,000 on average). It's taking longer for homes to be sold, and Buyers are now securing deals at a 2% discount from ask. We are far from a balanced market, but it is getting healthier.
Sellers will need to put their house in good order (think about what was done to sell a home in 2019). And then be prepared to negotiate. On the other hand, Buyers can find Sellers offering interest-rate buydowns and other discounts to make their home more affordable.
This is a NEW market. You do not want to get caught fighting the last war. Call or text today to put together a winning strategy in this fast-changing market!!!