How to Set Your House Apart From the Competition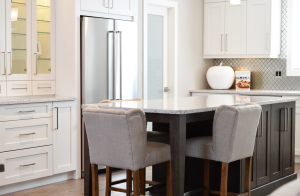 ---
Follow me …I am going to state the obvious. Your house is not the only house on the market. Your house is among many, many other houses that have similar styles, similar features, similar prices, similar locations. So how do you set your house apart from the competition??  I'm going to share some ideas about what you can do to the inside to stand above the rest --- and maybe even how to get top dollar for your property.
Most of these lists start by encouraging the homeowner to take a complete inventory of their property and then to start knocking off one major project after another.  Now, that takes a whole lot of money to do.  Something like a new roof can easily run 5 or 10 thousand dollars.  And new bathrooms and kitchens are other big-ticket If you have that kind of money to work with, then I suggest you get some experienced advice before committing to that kind of remodeling.  After all, before you invest big bucks, you want to be pretty confident that you're going to get your money back (and then some)
OK so, moving on to some things you can do on a less ambitious budget, let's start with some of the basics.  First, get yourself some boxes, even rent a storage unit if you must
Begin de-cluttering your house.  Make sure that buyers can easily walk through your house.  That big, overstuffed ottoman might be "just right" for watching tv, but if buyers are tripping over it, they'll judge the room "too small" regardless of how big it actually is.  Think about rearranging furniture so rooms appear large and open, and are easy to walk through. It may mean removing some furniture to storage
If you have an empty room or one that just doesn't seem to fit, then give it some thought and make it into something.  I see this with breakfast rooms and dens most often.  Use furniture and props to make each room serve a purpose - eating, tv, computer, office, guest room, fitness center, hobbies, something
Remove every third item from tabletops, countertops, cabinets, mantels, and I think it's one of Murphy's Laws that stuff expands to take up the space available.  So, start by removing every third item.  Wait a day or two, and then repeat the process.  Pretty soon, your buyers will be able to see the countertop and it will appear larger and they will be able to imagine the room with their stuff!
Yes, more de-cluttering... if every wall and tabletop is covered with family photos, bite the bullet and remove most.  Keep in mind, you want the buyers to be able to envision their family living in this property.  Some staging professionals will counsel that sellers remove all of their personal photos and belongings.  I'm not sold on that.  My opinion is that a warm house, one that conveys that real people live in it, make it their home and have enjoyed living in it is a plus. Cold homes are a turn-off.  So, my $.02 worth is to strike a balance- depersonalize it enough that buyers can see their family, not yours, but do not depersonalize it to the point where the house is barren and cold
And speaking of warm... consider making good use of soft, warm lighting. This is especially true during the winter months when buyers are walking through homes after work (and after dark).  Rainy days call for special attention also.  Soft lamplight adds to the warmth and charm of any home
Take a hot, soapy rag and wash around doorknobs, cabinet doors and drawers, light switches, and anywhere else where you find that everyday life has left its mark.  If need be, get out that leftover paint can and do a quick touch-up. Maybe painting a wall would spruce things up a bunch. It would be time well spent!
Open the curtains, throw back the drapes.  Letting lots of light in will help liven up your house to potential buyers.  It'll make the house appear larger and happier.  If the windows are dirty, you'll be surprised how much lighter they'll let in if they're washed.  Need a little help in this area, let me know. I have a list of resources that I can share
Repair broken light switches, replace missing outlet covers, cure leaky faucets, and level noisy ceiling fans are just a few of the very inexpensive things you can do (or maybe a friend or relative can do for you) to make your house look well maintained.  Make a good first impression!
Saving the best for last--- not everyone likes pets.  Know that I have 4 legged friends of my own however if you have pets, you need to mask the fact.  Keep cat litter boxes clean and odor free.  Keep animals outside as much as possible.  Keep the floors and furniture free of pet hair.  Hide the food bowls.  Vacuum carpets with pet deodorizer.  If you can, have them professionally cleaned or consider replacing them if not salvageable. Sometimes, painting a room can make a huge difference to perceived air quality.  No matter what, understand that pet odors will drive buyers away, even when a house is priced on the cheap.  So, you can only imagine what pet odors will do to your selling effort if you're trying to get top dollar.
I know it's a lot and it's not easy selling a home. But you don't have to do a whole house makeover to give the impression that the house has been well maintained.  There are ways to be able to stand apart from the competition. If you'd like a second set of eyes to help map a home prep strategy, please give us a call at 317-625-0655.  We'll be glad to help.
---
Bob started in the business early, just as he does each day. He bought his first 2 houses while in college. He began his career in real estate in 1976. Throughout the years, he has built up an extensive resume and has served many different roles. His experience ranges from being a successful realtor over the last 30+ years for both residential and commercials properties to a mortgage lender, an appraiser, an inspector, a contractor and even a property manager for over 500 tenants. He has tackled it all.
Not only has his experience been diverse, but it has also run deep. The combination makes him uniquely qualified to provide the type of services demanded by the present real estate market. He welcomes all questions. It's how we learn. Give him a call!