7 Reasons Why You Should Get Pre-Qualified
There are LOTS of very good reasons why someone wanting to buy a house should get pre-qualified. Let's talk---
Unless you're paying all cash or buying on contract, this step is a must do prerequisite to buying
And even if you're going the contract route, it will improve your negotiating power.
Most importantly, a pre-qualification letter is required before most offers will be accepted.
It really doesn't expire (although after a couple of months, it may need updating).
There's rarely a cost to do it.
There's no penalty to your credit score.
It let's you shop with confidence, knowing how much house you can buy and what your actual payments will be.
Bob worked in the mortgage industry for 17 years and still has strong contacts. We recommend only mortgage loan originators who have proven themselves with dozens of our clients over many years time. Two that have done the job, helping many of our clients to secure a mortgage and to buy the home they wanted are Mike Wickham and Alan Pressley. Do yourself a favor and give one of them a call. Get pre-qualified now.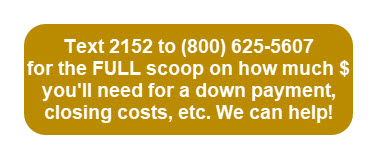 Send Us Your Home Buying Questions

How Much House Can You Afford
In addition to credit scores, credit reports, job history and other factors, one of the key qualifying items is Debt-to-Income ratio, or simply, Debt Ratio. Every loan program has its own qualifying number, and many lenders have their own numbers as well. The allowable ratio may be more or less depending on factors such as credit score or how large or small your cash down payment will be. Debt Ratios are calculated by dividing your monthly debts by your monthly income. Here are some of the items that go into the calculation:
DEBT:
- Mortgage Payments
- Loan Payments
- Auto Lease Payments
- Minimum required payment on credit card(s)
- Child Support
- Other
INCOME:
- Gross salary or wages, pensions, Social Security
- Average commissions and/or bonuses
- Net rental income
- Net self-employment income
- Other
Here are some fairly common qualifying Debt Ratios:
Conventional Loan
50% with automated underwriting approval
FHA Loan
56.99% with automated underwriting approval
43% with manual underwriting approval
VA Loan:
55% +/- with automated underwriting approval
41% with manual underwriting approval
RD Loan
45%
IHFA Loan
45%
But to get to the bottom line and learn how much house you can qualify to buy, give Mike Wickham a call or email, or visit him online today.